Print This Post
The Watchmen on the Walls, a multinational anti-gay organization that declares, "There is a war between Christians and homosexuals," expects more than 700 followers to attend a three-day WOTW conference in Lynnwood, Wash., beginning Oct. 20. One of the speakers will be Watchmen co-founder Scott Lively, author of The Pink Swastika, which claims that gays helped to orchestrate the Holocaust.
In August, Lively spoke at a WOTW conference in Novosibirsk, Russia. He discussed the murder of Satender Singh, a 26-year-old gay Indian man who was beaten to death by Russian-speaking gay bashers in a park near Sacramento, Calif., a hotbed of militant anti-gay activism among Slavic immigrants.
The audience laughed and applauded as Lively described the killing.
Sacramento law enforcement investigators describe Singh's death as a hate crime. According to witnesses, Singh was enjoying a holiday outing with friends, who were married heterosexual couples, when a group of Russian-speaking young men called them "Sodomites" and "7-11 workers." When one of Singh's friends, a pregnant woman, said that she didn't want to fight, one of the men responded, just before Singh was felled with a sucker punch, "We don't want to fight you either. We just want your faggot friend."
Lively delivered a quite different account of Singh's death at the WOTW conference in Russia:
I've been working with the Russian community in Sacramento. And I want to tell you this is an example [that] will show how bad things are in the United States. There was a situation in Sacramento a few weeks ago in a public park. There was a group of homosexuals and they were very drunk. And one of the homosexual men was taking off his pants. And there were children in the park. And a Russian man went over to these homosexuals and he was rebuking them. And there started a fight. The Russian man punched the homosexual [audience applauds and laughs]. No, no… don't.
The homosexual was very drunk and he fell down and he hit his head and he died. And now [audience applauds] no … no.
And the Russian man has been accused of murder. And the FBI is seeking him. And all the powers in Sacramento have been accusing all of the Russian community of being murderers. And the goal is to silence everyone who speaks against homosexuality. And this is a very dangerous situation.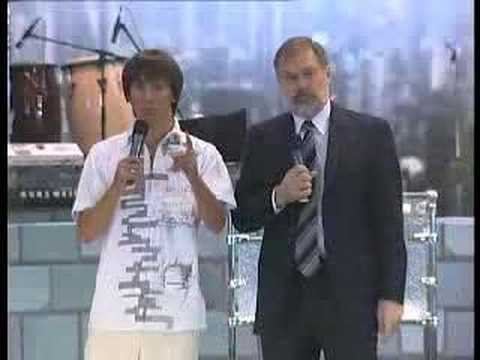 Lively's entire 49-minute speech in Novosibirsk can be viewed here [hat-tip to Box Turtle Bulletin].
13 Responses to
'Watchmen Leader Gives Bizarre Account of Gay-Bashing Death'



Does anyone know a good civil rights lawyer in Minnesota.
I know of at least 4 cable companies that discriminate based on religion. One harrasses and intimidates those who file complaints.




Okay,
This one hits too close to home.
I am an hour from the capitol of the fine/liberal State of California.
Get me someone to email!!!




… And how could "Gays Orchestrated the Holocaust" be taken seriously. What an ignorant comment.
Everyone knows Gays were classified as "enemies of the state" during the Holocaust!

Sheesh, some people's ignorant kids!




Christ told us to be eunuchs for the kingdom of heaves sake.Anyone know what a eunuch is.Look it up in your dictionary.Christians rarely make themselves into eunuchs but until they do they need to lean off gays and other persons who they claim aren't living up to the saviours standards.Christianity is used by most as a sad ,sorry excuse for their own prejudices.Christ would have been sick to his stomach by the sound of some of you and i don't need an opinion of what he thinks of me either.=




Interesting, this Lively. He was trying to make the attack sound civilized, even moral.
It was not civilized.
It was not moral.
And it was not lawful.
When will law and order outweigh this kind of hatred?




Thank you for your ongoing coverage of some of the key activities of the radical rightwing. You may wish to consider adding http://www.talk2action.com to Hatewatch's blogroll. Talk To Action's authors cover the activities of the religious rightwing in the US.




Gays are hardly a minority and sure not be confused or classified as one.

Many of the high positions in government and American corporations are held by gays.

These deviates can't be content with non-deviates tolerating them, they want their life style to be sanctioned without recourse.

There should be no debate concerning Gay rights, that is an oxy-moron.

I am all for deporting openly Gays to an isolated country of their own.

This debate on Gays defer the proper attention from the other ills that the SPLC should be engaged.

SPLC will never be effective supporting Gays. Maybe the Gays have infiltrated SPLC.




The following groups are connected with Watchmen on the Walls here in the US:

New Generation Church
Defend the Family International
Abiding Truth Ministries
Pro-Family Charitable Trust




Oh, and did not know about it. Thanks for the information …




j7 thinks LGBT people are "hardly a minority"? So then, over half the population have a predominantly homosexual orientation? That's news to me.

He wants us to believe that Southern Poverty Law Center–by documenting murders motivated by homophobia–is being diverted from more important work. Sorry, I don't find it plausible that j7 supports in any way the work of SPLC, if he's unaware of the meaning of the word "minority".

Then we learn j7 is fantasizing about genocide.

What can the rest of us learn from this? That the Klan, the Dominionists and their ilk are keeping a close watch on websites like this one. Hardly a surprise…but a helpful reminder that these sociopaths are perhaps not as tiny a "minority" as we might have hoped to believe.




Amazing, SPLC is using the same stereotyping tactics it claims are examples of hate and xenophobia against immigrants it finds offensive.

It generalizes all Latvians, and uses derogatory racist terms like "Slavs" and "Scarf-wrapped babushkas" is a hateful derogatory term. I guess some "immigrants" are more equal than other?.

I've heard about racism and intolerance in the gay community against blacks, and I guess this is just one more example of it, and the gay activist groups pay just as much to the SPLC as the US Chamber of Commerce and Business Roundtable do for cheap labor illegal aliens.

I think the SPLC needs to be investigated, open it's books, reveal why it refuses to actually help poor citizens who suffer from the dire poverty and are denied their rights, or lose it's license.




Illegal alien gangs and individuals attack innocent American citizens, who are gay as well as those that are straight. It's been reported that upwards of 12 innocent Americans are murdered every day by illegal aliens, however, the SPLC doesn't care about that. No money for Morris Dees in that.

The first news report is from the Boston Globe, they do not identify the attackers as illegal aliens, but they were found to have come to the US illegally as the minor children of other illegals, they are from Mexico, though which was reported in other articles from the time the attack was new. The latest news was the lone attacker who was arrrested only received probation.

Boston prosecutors will not pursue hate crime charge in attack on lesbian http://www.houstonvoice.com/20.....e/pibs.cfm
BOSTON — Gay activists expressed outrage this month when a Suffolk County district attorney decided not to prosecute a teenager for a hate crime after a July 4 attack against a lesbian, the Boston Globe reported. "It's ludicrous," Jesse Kahn, a neighborhood activist who is gay, told the newspaper. "It is beyond ridiculous that [the teen] wasn't charged with a hate crime, given that there were dozens of witnesses" to the incident. The victim, Lisa Craig, 35, and her partner allegedly were verbally taunted by Anita Santiago, 16, and Santiago then allegedly punched Craig and slammed her head against a curb, according to news reports. Santiago was indicted Dec. 4 as a juvenile under tougher "youthful offender" policies and is charged with aggravated assault and battery. If convicted, she could receive 20 years in prison, David Procopio, spokesperson for the Suffolk County District Attorney's Office, told the Globe. Santiago was allegedly among a group of teens accused of shouting epithets at the victim and her partner, but Procopio said prosecutors could not prove that Santiago made the statements some attributed to her, the Globe reported.

73-year-old rape victim: Security, independence, privacy, pet all gone http://www.journalinquirer.com.....&rfi=6
By: Heather Nann Collins, Journal Inquirer
08/23/2007
Email to a friendPost a CommentPrinter-friendly
For a 73-year-old disabled East Hartford woman, the life she had before Alejandro Cuy Xum raped and beat her early one morning is gone forever.

Gone, she told a Hartford Superior Court judge on Wednesday, are her sense of safety and security.

Gone are the friendships she had with her neighbors at the Willow Arms apartment complex on Main Street.

Gone is her independence: Since the attack, she has moved to an assisted living facility, where instead of privacy and a home filled with a lifetime of memories she shares a room with another person and must confine her personal items to one dresser.

And gone too is the canine companion that Cuy Xum also beat when he sneaked into the woman's apartment just after 4 a.m. on July 18, 2005.

"When someone invades your home and there is nothing you can do to protect yourself, you feel terribly vulnerable," she wrote in a statement to Judge Thomas P. Miano.

The woman – who is confined to an electric wheelchair and tethered to an oxygen tank – was accompanied by her daughter, who read her mother's three-page statement at Cuy Xuy's sentencing Wednesday.

"I am afraid of people in a way I never have been before," the woman wrote. "My confidence in most things is gone. That part of my life ended."

In a plea deal Cuy Xum, 27, was convicted in July of first-degree sexual assault, first-degree burglary, and assault on an elderly person.

Cuy Xum also was convicted of second-degree burglary for a break-in at a home near the woman's apartment the night before the rape.

In that case, Cuy Xum crept into the sleeping homeowner's bedroom, rifled through the man's trousers that were hanging over a chair, and stole from his wallet. He also took a ring, prosecutor Edward R. Narus told Miano.

Narus had sought a 25-year prison sentence for Cuy Xum, a Guatemalan native who had illegally been in the United States for less than a month when he was arrested by East Hartford police.

It wasn't an unreasonable request, Narus said, given the "savage attack" by Cuy Xum.

The woman's electric wheelchair was parked next to her bed, Narus said, making it obvious to anyone that she was vulnerable and essentially defenseless. Rather than simply taking whatever valuables he could and leaving the apartment, Cuy Xum responded to the woman's vulnerability by raping and beating her.

"The violence he then inflicted upon her was totally gratuitous in every sense of the word," Narus said.

And Narus made reference to the June 23 break-in at a Chesire home that ended with a mother and her two daughters murdered and the father's savage beating. Two of the dead were sexually assaulted. Police there have charged a pair of career burglars who now face the death penalty.

"We can all understand the fear," Narus said. "While we might be in our home, people can enter and do what they will."

But Miano said he considered a host of factors in reducing Cuy Xum's sentence to 20 years to serve, including his low IQ and other mental health issues, and potential problems with police searches done after the fact.

Nevertheless, the judge noted, the "devastating act that just affronts humanity" committed by Cuy Xum won't likely be erased for the woman, even with a lengthy prison sentence for her attacker.

"No one can appreciate what that lady has gone through," Miano said. "It's much more painful than the bruises. No one should be subjected to that – no one."

With the assistance of a Spanish interpreter, Cuy Xum repeatedly asked for forgiveness and apologized for what he did.

And his lawyer, Public Defender William C. O'Connor, said the 20-year sentence handed down by the court very likely will be exactly that – not the 85 percent some defendants serve before they're paroled.

Given the Chesire case and the current lawmakers' response – some are calling for 25-year mandatory minimum sentences for home invasions and an examination of parole policies is under way – Cuy Xum "is never going to get parole in a case like this."

After Cuy Xum serves his prison sentence, Narus said, it is very likely he will be deported to Guatemala.




j7
"I am all for deporting openly Gays to an isolated country of their own. "

I am all for deporting the openly religious to an isolated planet of their own.
You can be hatefull there and leave the rest of us alone. There is NOTHING wrong with gay people. They are people just like you. They want to be treated like people. People like you make me fucking sick. You people are just worthless peices of shite. The world would be better off with you.
Comment