The Hatewatch blog is managed by the staff of the Intelligence Project of the Southern Poverty Law Center, an Alabama-based civil rights organization.
Faced with an exploding crisis sparked by the revelation that the No. 3 Republican in the House gave a speech to a well-known group of white supremacists and neo-Nazis a dozen years ago, the GOP in Rep. Steve Scalise's home state of Louisiana is doubling down, calling the entire episode a mere "manufactured blogger story."
Really? A manufactured blogger story?
Scalise claimed yesterday that he had no idea of the views promoted by the European-American Unity and Rights Organization (EURO), whose workshop he addressed in 2002 at a hotel in Metairie, La. And he was backed by an array of Louisiana Republicans including state GOP chair Roger Villere Jr., who described Scalise as "a man of great integrity who embodies his Christian faith in his life." Villere dismissed the story broken by Louisiana blogger Lamar White Jr. as "an attempt to score political points by slandering the character of a good man."
But Scalise's claim of ignorance is almost impossible to believe. He was a state representative and an aspiring national politician at the time, and Louisiana-based EURO already was well known as a hate group led by America's most famous white supremacist.
EURO was founded two years before Scalise agreed to speak to its conference by Louisiana resident David Duke, a media-friendly neo-Nazi and onetime grand wizard of the Ku Klux Klan who had made a national name for himself by running repeatedly for office. He won his first elected office in 1989, when he became a state representative, garnering local headlines across Louisiana. In 1990, he won more than 600,000 votes in an unsuccessful bid for the U.S. Senate, and in 1991, he took almost 700,000 votes in a run for governor. Newspapers around the world wrote about his ultimately losing fight against the scandal-dogged Edwin Edwards and the bumper sticker it engendered: "Vote for the crook, it's important."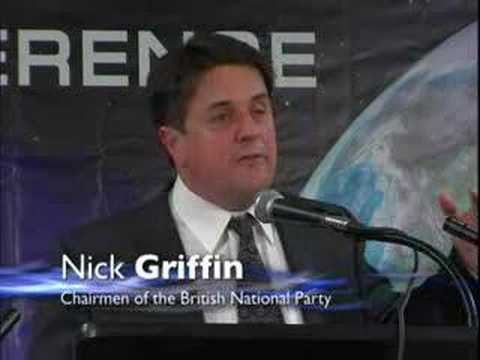 Video of the 2005 EURO conference.
That's not all.
Newspapers at the time of the EURO conference reported that a minor league baseball team from Iowa had changed hotels after learning that it would be held where they planned to stay. A hotel official also told a local paper that the company "did not share the views" of EURO, according to the Huffington Post.
And Scalise's claims met with skepticism even from some well-known out-of-state conservatives. "How do you not know? How do you not investigate?" asked Erick Erickson, a former Louisiana resident, on his RedState blog yesterday. "By 2002, everybody knew Duke was still the man he had claimed not to be. EVERYBODY. How the hell does somebody show up at a David Duke organized event in 2002 and claim ignorance?"
In an interview with NOLA.com yesterday, Scalise reiterated the claim that he had no idea what EURO was and said that he "went and spoke to any group that called." That prompted Washington Post blogger Jennifer Rubin to ask the obvious question: "Would he have spoken to a KKK rally? To the American Nazi Party?"
The fact is that Scalise may have had some real affinities with EURO. In 1999, Roll Call reported that Scalise "said he embraces many of the same 'conservative' views as Duke, but is more viable." To the extent that he had a problem with Duke, it appears it was only that he was unelectable. "Duke has proven he can't get elected," Roll Call quoted Scalise as saying, "and that's the first and most important thing."
In 1999, Scalise voted against making Martin Luther King Jr. Day a state holiday, one of just three state representatives to do so. And in 2004, two years after the EURO conference, he was one of six to vote against the holiday.
There appears to be no transcript of Scalise's speech to EURO, but blogger Lamar White Jr., who first broke the story on Sunday, found postings on the neo-Nazi Stormfront Web forum that described it. In one, a user said Scalise "brought into sharp focus the dire circumstances pervasive in many important, under-funded needs of the community at the expense of graft with the Housing and Urban Development Fund, an apparent giveaway to a selective group based on race."
A colleague at the Southern Poverty Law Center, Intelligence Project Director Heidi Beirich, actually attended EURO conferences in 2004 and 2005. The venues were adorned with Confederate flags and racist slogans and offered racist merchandise.
Scalise, a politician who already had national aspirations at the time of the 2002 EURO conference, certainly should have known what his dalliance with open white supremacists might cost him. In 1998, a scandal erupted when it was revealed that U.S. Rep. Bob Barr (R-Georgia) and Senate Majority Leader Trent Lott (R-Miss.) had endorsed and spoken to the Council of Conservative Citizens, a major white supremacist hate group. In late 2002, after singing the praises of segregationist Sen. Strom Thurmond (R-S.C.), Lott was forced to resign his leadership post.
Now Steve Scalise should do the same.
Nineteen years ago today, evil came to Oklahoma City. Timothy McVeigh, fueled by hatred of the government he saw as an oppressive tyrant, set off a massive truck bomb at the Alfred P. Murrah Federal Building, tearing away the lives of 168 Americans, including 19 small children in a day-care center.
He was one of ours. Although many rushed to declare that the bombing bore all the hallmarks of an attack by foreign Muslim jihadists, they were quickly shown to be completely wrong. McVeigh was a U.S.-born white man, what the Ku Klux Klan of old liked to call a "100 percent American."
For a moment, it seemed the lesson was learned. Law enforcement officials, many of whom had been skeptical of the whole notion of domestic terrorists, came to see that there was a dangerous underbelly to American society, a world of radical-right activists who were willing to kill. Plot after plot was dismantled as the militia movement coursed through the country. But then came the Al Qaeda attacks of Sept. 11, 2001, and it appeared that the lesson had once again been lost.
Six days ago, the nation was served with a grim reminder that the United States faces its own homegrown terrorists. A well-known neo-Nazi named Frazier Glenn Cross (formerly Miller) allegedly stormed on to the grounds of two Jewish institutions in Overland Park, Kan., and shot to death three strangers. As he was led away by police who captured him almost immediately, he shouted "Heil Hitler!"
Although the news coverage implied that this was a uniquely horrific attack, the reality is that it was only the latest in recent years. Other known neo-Nazis murdered a guard at the U.S. Holocaust Museum, killed six Sikhs in a Wisconsin temple, tried to slaughter hundreds in a Martin Luther King Jr. Day parade in Spokane, Wash., and more. According to the New America Foundation, right-wing extremists have slain 34 people in the United States for political reasons since 9/11, while terrorists motivated by Al Qaeda's ideology have killed 21. That's not to diminish the jihadist threat, but merely to point out that there are others, too.
Despite that and other compelling evidence of the domestic threat from the radical right, the Department of Homeland Security, tasked with developing intelligence about such perils, seems to have taken its eye off the ball. Since 2009, when then-DHS Secretary Janet Napolitano pulled back a DHS report that soberly assessed the threat because certain conservatives were offended by its perfectly accurate observations, the DHS unit that once handled analysis of domestic non-Islamic terrorism has been gutted. Most members quit the agency, disgusted by Napolitano's political cowardice and their own shabby treatment.
The work that DHS used to do is needed. As the Southern Poverty Law Center has documented, the last five years have seen an enormous expansion of the radical right, largely driven by the demographic "browning" of the population and predictions of the loss of a white majority in the next 30 years. Anger at the dramatic changes occurring in our society is real, and it is steeped in blood.
One thing DHS might consider examining is the role of the Internet in breeding and facilitating men like Frazier Glenn Cross. As pointed out by Jeffrey Simon, a scholar of so-called "lone wolf" terrorism, all today's lone terrorists need is provided by the Internet, where both technical information about bombs and other weapons is freely available, and where a chorus of moral support can be found.
A study by the SPLC, two years in the making and released four days after the Kansas murders, probed the role of an enormous racist Web forum called Stormfront that is run by a former Alabama Klan leader. It found that in the last five years alone — since the election of the nation's first black president — registered members of Stormfront (an incredible 286,000 people, though many are inactive) have been responsible for the murders of close to 100 people. ( continue to full post… )
Editor's Note: The ongoing religious right attack on the SPLC, originally framed last month to suggest that the SPLC bore responsibility for a shooting at the Family Research Council because it had earlier named the FRC a "hate group," has continued to expand to the point of absurdity. That was shown again last Friday, when Matt Barber of Liberty Counsel said on a radio show that any media that cited the SPLC's hate group listings "will also have blood on its hands." What follows is a response to the original criticism launched by the FRC.
Do words have consequences?
For years, we at the Southern Poverty Law Center (SPLC) have argued that they do. When conspiracy-minded Islamophobes claim that Muslims have a secret plan to force America into a medieval-style caliphate, Muslims in the streets get hurt. When angry nativists assert that Mexicans are plotting to "reconquer" the Southwest, some Americans respond by attacking Latinos.
And when the religious right spreads false and defamatory propaganda like the completely baseless notion that gay men molest children at rates far higher than their heterosexual counterparts, LGBT people end up, much more frequently than most people realize, at the wrong end of a baseball bat. ( continue to full post… )