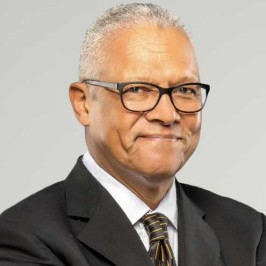 Cleveland A. Christophe is a retired investment and finance professional.
Christophe's career included numerous senior positions with Citibank in the United States and abroad, including France, Monaco, Jamaica and Colombia. He served as a partner with TLC Group L.P., a leveraged buyout firm. He is the founder and was a managing partner of TSG Capital Group, a private equity firm. Christophe also served as president and chief financial officer of US&S Inc., a Greenville, South Carolina-based firm that provides facilities maintenance and support services.
Christophe has served on the boards of directors of numerous public and private companies and nonprofit institutions. He currently serves on the boards of Peace Center, a performing arts center in Greenville, and Builders FirstSource Inc., a manufacturer and supplier of building materials. Christophe serves as senior adviser to Grain Management, a global communications investment firm.
After being raised in the segregated South, Christophe received a bachelor's degree in business administration from Howard University and a Master of Business Administration degree from the University of Michigan. Christophe has been married for more than 50 years. He has three children.