Former Chief Communications Officer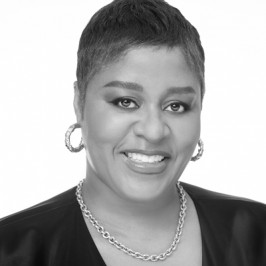 Tia T. Gordon is the former chief communications officer of the Southern Poverty Law Center.
An award-winning global communications strategist who has worked at the intersection of diversity, equity and inclusion (DEI), Gordon oversaw the SPLC's media, creative and design services. She also supervised its editorial and digital initiatives and collaborated on marketing programs.
An advocate for women's rights worldwide, she was chief of communications and advocacy for UN Women, the United Nations organization "dedicated to gender equality and the empowerment of women." She served as vice president of global communications at Catalyst, a nonprofit organization that works with some of the world's most powerful CEOs and leading companies to build workplaces well suited for women.
In both of her previous roles, which she held during the height of the global #MeToo movement, Gordon successfully led ambitious awareness campaigns to address gender equality, sexual violence and sexual harassment of all women. She continues to advocate and serve as a key spokesperson on women's rights.
With decades of experience, Gordon has led strategic communications and DEI efforts in various sectors. In 2008, she launched TTG+PARTNERS, a boutique communications consultancy that specializes in starting thoughtful conversations on race, ethnicity and diversity. The company spotlights the challenges among college students who come from marginalized and underserved communities in the United States. It quickly became one of the most sought-after creative companies in the higher education community, resulting in client partnerships with some of the nation's top colleges and universities, Fortune 500 companies and nonprofit organizations.
Earlier in her career, Gordon developed and led the U.S. lodging industry's historic national diversity and inclusion initiative while at the American Hotel & Lodging Association. She advised CEOs, chief diversity officers and other C-suite executives at leading hotel companies to ensure the lodging industry provided increased career opportunities for marginalized communities, including people of color, women and LGBTQ people.
Gordon, based in Washington, D.C., received her bachelor's degree in communications from Washington Adventist University. She has a master's degree in public communications from American University.