FBI: Bias Crimes Against Muslims Remain at High Levels
Hate crimes against perceived Muslims, which jumped 50% in 2010 largely as a result of anti-Muslim propagandizing, remained at relatively high levels for a second year in 2011, according to the FBI's new national hate crime statistics.
The bureau reported that there were 157 anti-Muslim hate crimes in 2011, down very slightly from the 160 recorded in 2010. The 2011 crimes occurred during a period when Islam-bashing propaganda, which initially took off in 2010, continued and even intensified.
The actual number of reported anti-Muslim hate crimes is small for a country the size of the United States, but the FBI statistics are known to be notoriously understated, in part because more than half of hate crimes are never reported to police. Two major Department of Justice (DOJ) studies have indicated that the real level of hate crimes in America is some 20 to 30 times higher than the numbers reported over the years by the FBI, which are simply compilations of state statistics.
If the FBI numbers are taken as only an indicator of larger trends, as seems reasonable given the DOJ studies, the real number of anti-Muslim hate crimes during 2011 may have been somewhere between 3,000 and 5,000.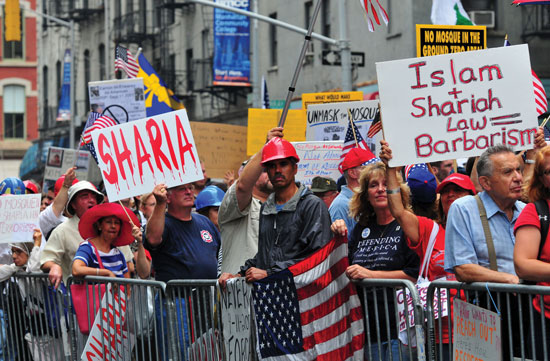 Although it's impossible to say definitively what is driving anti-Muslim violence, 2011 saw continued and well-publicized attacks on Muslims in the form of anti-Shariah law crusades and battles over proposed mosque construction. A year earlier, in 2010, anti-Muslim crime apparently was first driven up by disputes over an Islamic center planned for lower Manhattan and the baseless claim that Islamic Shariah religious law was being imposed on the United States.
The year 2011 also saw an intensification of anti-Muslim rhetoric from religious-right groups that once concentrated more or less exclusively on opposition to abortion and, especially, LGBT people and same-sex marriage. The American Family Association's Bryan Fischer, for instance, said that Islam was marked by "hatred," "vitriol," and "dark energy," and claimed that Muslims want to "completely silence and neutralize Christians everywhere in the world."
The FBI statistics suggested other trends as well. Most remarkably, anti-Latino hate crimes fell 31%, from 534 in 2010 to 405 in 2011. It's not certain what's behind that major decrease, but it does seem clear that anti-Latino and anti-immigrant propaganda diminished during the same period that anti-Muslim rhetoric was being ratcheted up.
At the same time, anti-Jewish hate crimes fell from 887 in 2010 to 771 in 2011, the latest decrease since their recent peak of 1,013 in 2008. Anti-black hate crimes also extended a three-year decline, from a high of 2,876 in 2008 (when Barack Obama first appeared on the political scene, fueling anti-black hatred in certain quarters) to 2,076 by 2011. Anti-LGBT hate crimes rose very slightly, from 1,256 in 2010 to 1,277 in 2011.