These groups peddle a combination of well-known hate and conspiracy theories, in addition to unique bigotries that are not easily categorized. Several of the groups seek to profit off their bigotry by selling a miscellany of hate materials from several different sectors of the white supremacist movement.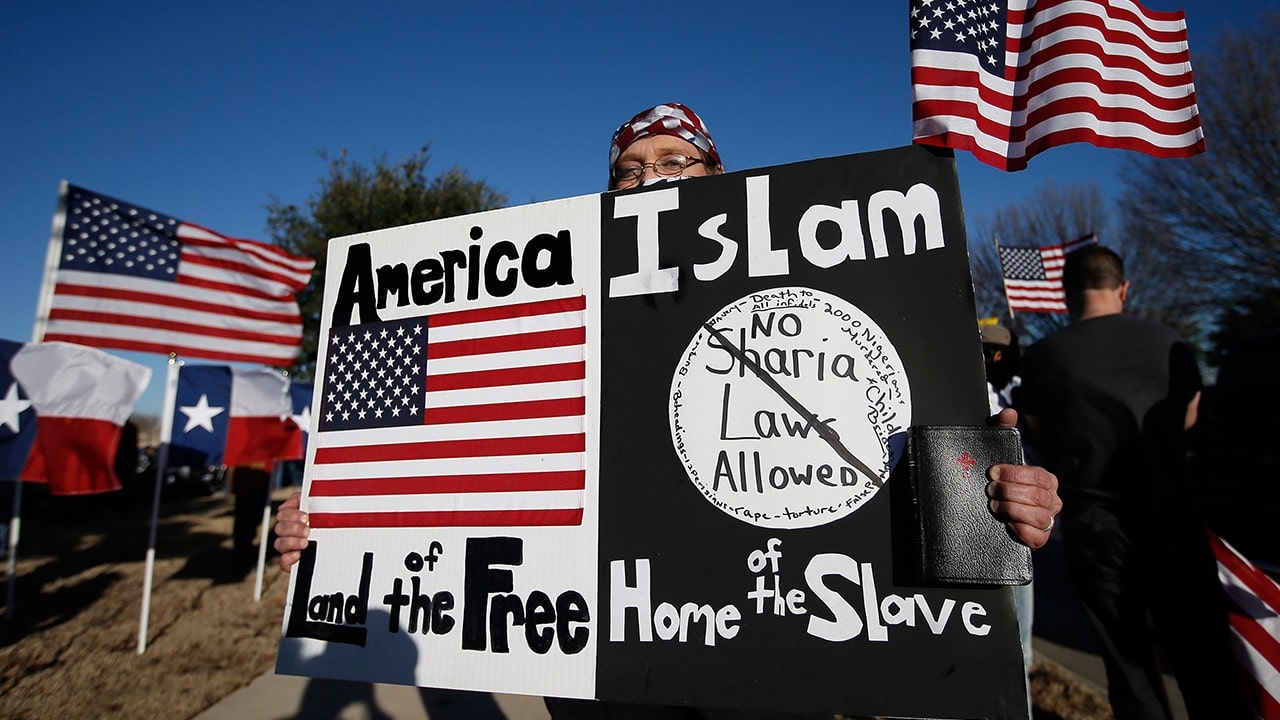 Top Takeaways
The active hate groups listed under General Hate for 2020 are a bit different than those listed in 2019. As SPLC seeks to better understand the ideological drivers of hate groups we have developed the antisemitism categorization, which is now listed under "General Hate." The bulk of the groups listed under this ideology were formerly categorized as Black Separatist and Holocaust Denial. As these groups come under the General Hate categorization, Neo-Volkisch groups – which made up the bulk of this category in 2019 – have been moved to their own standalone category.
Most notably, another group listed in General Hate is the Proud Boys, the "Western chauvinist" men's club that espouses rabidly anti-Muslim and anti-immigrant beliefs, demonizes trans people, and clings to archaic and misogynistic notions of gender. Established in the run-up to the 2016 presidential election, the Proud Boys were staunch supporters of Trump's throughout his presidency.
Key Moments
After a downturn in activity in 2019, the Proud Boys capitalized on the instability and conflict that the COVID-19 pandemic and divisive Trump administration sowed in 2020. Early on in the pandemic, members of the Proud Boys began attending anti-lockdown protests, claiming these gatherings would be "where the battle for the 2020 election starts."
Significant clashes between members of the Proud Boys and counterprotesters occurred in Portland, Oregon in August and September. Self-identified Proud Boy Alan Swinney was arrested for shooting paintballs at counterprotesters and pointing a pistol at them with his finger on the trigger.
Similar to Trump's violence-inciting words on Jan. 6, 2021, prior to the riotous insurrection at Congress, Trump pointedly refused to denounce the actions of white supremacists, specifically the Proud Boys, in a September 2020 presidential debate. When pushed on the matter, he instructed the Proud Boys to "stand back and stand by." He then continued, "but I'll tell you what, I'll tell you what, somebody's got to do something about antifa and the left because this is not a right-wing problem."
In December, amidst Trump's false accusations of election fraud, Proud Boys gathered in Washington, D.C. to support the president's unfounded claims. One Proud Boy who attended was photographed wearing a shirt emblazoned with, "6MWE," an antisemitic slogan that stands for, "six million wasn't enough." Enrique Tarrio, the group's leader, was arrested after his involvement in burning a church's Black Lives Matter sign at this protest.
What's Ahead
While the number of active hate groups listed under the Antisemitism ideology is not expected to change significantly in 2021, this does not mean these ideological bigotries will stagnate. Claims around the "global special interest" that facilitated Biden's presidential election "steal" are founded in centuries of antisemitic conspiracy theories, currently being exploited by far-right extremist groups.
Though the Biden-Harris administration and Trump's impending impeachment trial mean the Proud Boys have lost their ally in the White House, they remain highly organized. Street mobilization will continue to be an important political tool for the group, as will their alliances with more radical segments of the Republican Party. 
Background
These groups espouse a variety of unique hateful doctrines and beliefs that are not easily categorized. This list includes a "Jewish" group that is rabidly anti-Arab, a "Christian" group that is anti-Catholic and a polygamous "Mormon" breakaway sect that is racist. Many of the groups are vendors that sell a miscellany of hate materials from several different sectors of the white supremacist movement.
2020 General Hate groups
View all groups by state and by ideology.
*Asterisk denotes headquarters.
BeaSSt Productions
Roanoke, VA*
Black Metal Cult Records
Phoenix, AZ*
DNVF Records
Shawnee on Delaware, PA*
ISD Records/NS88 Video
Denison, TX*
Micetrap Distribution
Maple Shade Township, NJ*
MSR Productions
Gering, NE*
Tightrope Records
Arkansas*
United Riot Records
New York *
Vanguard Productions
New Jersey*
Vinlandic Werwolf Distribution
California*
Winter Solace Productions
Wausau, WI*
Barnes Review/Foundation for Economic Liberty, Inc.
White Plains, MD*
Carolynyeager.net
Kerrville, TX*
Committee for Open Debate on the Holocaust
Mill Valley, CA*
York, PA
Independent History & Research
Coeur d'Alene, ID*
Institute for Historical Review
Newport Beach, CA*
Nation of Islam
Chicago, IL*
Akron, OH
Atlanta, GA
Austin, TX
Birmingham, AL
Brooklyn, NY
Camden, NJ
Charlotte, NC
Chattanooga, TN
Cleveland, OH
Columbia, SC
Compton, CA
Dallas, TX
Dayton, OH
Denver, CO
Detroit, MI
Dorchester, MA
Durham, NC
Fort Lauderdale, FL
Fort Worth, TX
Grand Rapids, MI
Greensboro, NC
Greenville, SC
Houston, TX
Indianapolis, IN
Jacksonville, FL
Kansas City, MO
Lexington, KY
Los Angeles, CA
Louisville, KY
Memphis, TN
Miami, FL
Milwaukee, WI
Mobile, AL
Monroe, LA
Montgomery, AL
New Orleans, LA
New York, NY
Newark, NJ
Norfolk, VA
North Charleston, SC
North Little Rock, AR
Oakland, CA
Oklahoma City, OK
Pensacola, FL
Philadelphia, PA
Phoenix, AZ
Pittsburgh, PA
Plainfield, NJ
Richmond, VA
Rochester, NY
Rock Hill, SC
San Antonio, TX
San Diego, CA
Shreveport, LA
Springfield, MO
St. Louis, MO
St. Petersburg, FL
Tampa, FL
Toledo, OH
Trenton, NJ
Tulsa, OK
Washington, DC
Willingboro, NJ
Wilmington, DE
Wilmington, NC
Winston-Salem, NC
Realist Report, The
Long Beach, CA*
A Voice for Men
Roanoke, VA
RADICAL TRADITIONALIST CATHOLIC 
Catholic Apologetics International
Greencastle, PA*
Catholic Family News/Catholic Family Ministries, Inc.
Niagara Falls, NY*
Christ or Chaos
West Chester, OH*
Culture Wars/Fidelity Press
South Bend, IN*
Fatima Crusader, The/International Fatima Rosary Crusade
Buffalo, NY*
In the Spirit of Chartres Committee
Glenelg, MD*
Remnant, The/The Remnant Press
Forest Lake, MN*
Slaves of the Immaculate Heart of Mary
Town of Richmond, NH*
Tradition in Action
Los Angeles, CA*
OTHER 
A2Z Publications
Parrish, FL
Ambassadors of Christ
Brooklyn, NY*
Chicago, IL
Houston, TX
American Free Press
Upper Marlboro, MD*
Army of Israel
Missouri*
Bill Keller Ministries
St. Petersburg, FL
Black Riders Liberation Party
Los Angeles, CA*
Las Vegas, NV
Portland, OR
Brother Nathanael Foundation, The
Priest River, ID
Chick Publications
Ontario, CA
Dixie Giftshop
Tennessee
European-American Evangelistic Crusade
Sheridan, CA
Great Millstone
New York, NY*
Valdosta, GA
Kansas City, MO
West Palm Beach, FL
Nashville, TN
Denver, CO
Little Rock, AR
Honolulu, HI
St. Louis, MO
Indianapolis, IN
Louisiana
Milwaukee, WI
Los Angeles, CA
Miami, FL
San Antonio, TX
Des Moines, IA
Birmingham, AL
Dallas, TX
Baltimore, MD
Chicago, IL
Cleveland, OH
Tampa, FL
Memphis, TN
Mississippi
Las Vegas, NV
Omaha, NE
Houston, TX
Detroit, MI
Charlottes, NC
Atlanta, GA
House of David
Brooklyn, NY*
House of Israel
New York, NY*
Philadelphia, PA
Detroit, MI
Inglewood, CA
Washington, DC
Atlanta, GA
Insight USA
Longwood, FL
International Society of Indigenous Sovereigns
Atlanta, GA*
Israel United in Christ
Mount Vernon, NY*
Raleigh, NC
Minneapolis, MN
Bakersfield, CA
Grand Rapids, MI
Lubbock, TX
Rochester, NY
Sacramento, CA
Jacksonville, FL
Columbia, SC
Lafayette, LA
Philadelphia, PA
Jackson, MS
Little Rock, AR
Nashville, TN
Tulsa, OK
Honolulu, HI
Seattle, WA
Mobile, AL
Concord, NC
Oklahoma City, OK
Detroit, MI
Brockton, MA
St. Louis, MO
Las Vegas, NV
Newark, NJ
Heath, OH
Turtle Creek, PA
Memphis, TN
Dallas, TX
Houston, TX
Austin, TX
Corpus Christi, TX
San Antonio, TX
Newport News, VA
Upper Marlboro, MD
Birmingham, AL
Phoenix, AZ
Los Angeles, CA
Denver, CO
Orlando, FL
Miami, FL
Tallahassee, FL
Atlanta, GA
Savannah, GA
Chicago, IL
Kansas City, KS
Louisville, KY
New Orleans, LA
Israelite Church of God in Jesus Christ, The
Baltimore, MD
Pittsburgh, PA
Israelite School of Universal Practical Knowledge
Upper Darby, PA*
Atlanta, GA
Austin, TX
Baltimore, MD
Boston, MA
Charleston, SC
Charlotte, NC
Chicago, IL
Cincinnati, OH
Dallas, TX
Detroit, MI
Durham, NC
Fayetteville, NC
Fort Wayne, IN
Greensboro, NC
Greenville, NC
Greenville, SC
Hartford, CT
Houston, TX
Indianapolis, IN
Jacksonville, FL
Kansas City, MO
Las Vegas, NV
Los Angeles, CA
Louisiana
Louisville, KY
Memphis, TN
Milwaukee, WI
Minneapolis, MN
Mississippi
Nashville, TN
New York, NY
Newark, NJ
Oakland, CA
Oklahoma, OK
Phoenix, AZ
Pittsburgh, PA
Richmond, VA
Rochester, NY
St. Louis, MO
Syracuse, NY
Tampa, FL
Washington, DC
Wilmington, DE
Winston-Salem, NC
Israelite the Branches
Baltimore, MD*
Israelites Saints of Christ
Richmond, VA*
New Jersey
North Carolina
Huntsville, AL
Jewish Task Force
Fresh Meadows, NY
Last Frontier Evangelism – Repent Alaska
Amarillo, TX
Lion of Judah – Jeshurun Lions
Chicago, IL*
Lions of Israel
Mount Vernon, NY*
Lordship Church
Bonners Ferry, ID
Luxor Couture
Atlanta, GA*
Masharah Yasharahla – Government of Israel
Raleigh, NC*
Masjid al Islam – As Sabiqun
Washington, DC
Mountains of Israel
Houston, TX*
Nation of Kings and Priests
Orlando, FL*
New Black Panther Party
Houston, TX*
Atlanta, GA
Baton Rouge, LA
New Orleans, LA
New Black Panther Party for Self Defense
Charlotte, NC
Memphis, TN
Seattle, WA
St. Louis, MO
Tupelo, MS
Tampa, FL
Jacksonville, FL
Washington, DC
Northern Kingdom Prophets
Pueblo, CO*
Official Street Preachers
Los Angeles, CA
OneBody in Yashawashi
Dallas, TX*
Patriot Movement AZ
Litchfield Park, AZ
Power of Prophecy
Spicewood, TX
Proud Boys
New York, NY*
Saint James, NY
Montana
Milton, FL
Ithaca, NY
Carson City, NV
Wallowa County, OR
Modesto, CA
Wisconsin
New Jersey
Washington, DC
Canton, OH
Lansing, MI
Anaheim, CA
North Carolina
New Mexico
Columbus, OH
Salem, OR
Sarasota, FL
Richmond, VA
Orlando, FL
Nebraska
Austin, TX
Tennessee
Oklahoma
Tampa, FL
Las Vegas, NV
DeLand, FL
Spokane, WA
Colorado
Alabama
St. Louis, MO
Minnesota
Arkansas
Arizona
Miami, FL
Philadelphia, PA
Portland, OR
Utah
Seattle, WA
Sacramento, CA
Hawaii
Indiana
Rense Radio Network
Ashland, OR
Revolutionary Black Panther Party
Valdosta, GA*
Louisville, KY
Philadelphia, PA
Sharkhunters International
Hernando, FL
Sicarii 1715
San Diego, CA*
Phoenix, AZ
San Francisco, CA
Tampa, FL
Miami, FL
Long Beach, CA
Chicago, IL
Dallas, TX
Orlando, FL
Atlanta, GA
Seattle, WA
Sons of Liberty Media
Annandale, MN
Tony Alamo Christian Ministries
Canyon Country, CA
TruNews
Vero Beach, FL*
True National Israelite Congregation
Los Angeles, CA*
Augusta, GA
United Nuwaupians Worldwide, The/All Eyes on Egipt
Brooklyn, NY*
Charleston, SC
Athens, GA
Philadelphia, PA
Charlotte, NC
Washington, DC
Lithonia, GA
Detroit, MI
Cleveland, OH
Chicago, IL
Hartford, CT
War on the Horizon
Washington, DC
Watchmen for Israel
Baltimore, MD*