The Southern Poverty Law Center — in partnership with the Community Foundation for Greater Atlanta — will make $100 million in grants available to Deep South organizations to build capacity and scale up their voter outreach and civic engagement efforts over the next decade.
The grants will enable nonprofits to work on a range of activities to secure full voter participation and achieve equitable representation, such as:
Establishing year-round civic engagement activities updating communities on important state and local policy matters and the ways in which they can better engage lawmakers.
Contributing toward expansion of the groups' fundraising base through philanthropy networks to maximize their reach.
Supporting efforts that train and help launch a new generation of political leaders in the South.
Building a political landscape that ensures a fairer 2030 redistricting process and outcomes for the decennial redistricting cycle.
Innovating – addressing future problems and using to-be-developed tactics and tools – to build additional capacity and trailblaze in work vital to democracy.
Illustration by Mary Kate McDevitt
Student activists lead voter empowerment efforts
https://www.splcenter.org/news/2023/12/01/vote-your-voice-georgia-student-activists-lead-voter-empowerment-efforts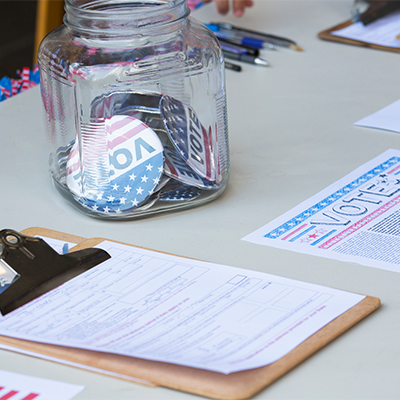 /vote-your-voice-archives