White supremacists Unleash Hate Crime Backlash Against Minorities in California's Inland Empire
As minorities move into the region known as the Inland Empire, white supremacists unleash a hate crime backlash.
CHINO HILLS, Calif. -- Despite all their big talk of honor, pride and the Aryan warrior's code, neo-Nazi Skinheads don't like a fair fight. Cowards by nature, they prefer to travel in packs and gang up on hate crime victims. The trio of Nazi skins laying in wait near a playground in a park here the morning of May 1 proved no different.
Around 11 a.m. that Sunday, a 21-year-old black man from the nearby city of Diamond Bar arrived at the park with a group of foster children from a group home where the man volunteered as an activities coordinator. He'd brought the kids to play basketball. As the players divided into teams, according to witnesses and police reports, the Skinheads swaggered over. They called the foster home worker a "nigger." They told him he'd made a big mistake by showing up in their park that morning with a bunch of mongrel brats.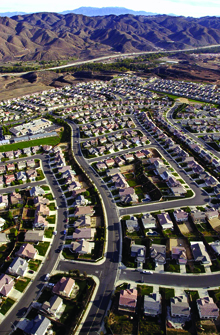 The subject of their taunts and threats hastily tried to gather his charges to leave, but the Skinheads surrounded him and then attacked. They thought the odds were three to one. But they were wrong. Several of the kids jumped into the fray. Seconds later, two more adult employees of the group home arrived in a separate vehicle and heard the intended victim yelling for help. They also joined the combat. The Skinheads suddenly found themselves badly outnumbered in a fight they'd started.
One of them ran for their car, jumped in, gunned the engine, and promptly crashed into a park bench, then a metal exercise station, then a concrete barrier, and then, at last, a tree. Unfortunately, the damage did not disable the vehicle, and the Nazi at the wheel was able to throw it in reverse then roar across a field and toward the cluster of kids and adults from the group home, who by then had beaten one of the remaining Skinheads to the ground and were physically restraining the other while they waited for the police to arrive (several bystanders had called 911 on mobile phones).
The first officers on the scene found the enraged driver of the battered car wheeling erratically around the park, chasing the kids and group home workers in a deadly game of tag. They immediately blocked his vehicle with their own and arrested him for attempted murder. The other two Skinheads were taken into custody on charges of aggravated assault (one of them escaped from a local hospital that night after being treated for his injuries). A spokesman for the Chino Hills Sheriff's Department described the 20-year-old Skinhead driver as "a known white supremacist" who had previously been arrested for several racially motivated attacks in San Bernardino County. "He places himself in places where minorities will be and makes slurs," the spokesman said. Police found neo-Nazi pamphlets, stickers, and patches inside his car.
The attack in Chino Hills, a suburban city with about 70,000 residents, was no isolated incident. It occurred in the heart of the Inland Empire, a booming region of Southern California where tract homes are cheap, the air is filthy, and white power violence is on the rise.
The New Minority
Made up of an area stretching from western Riverside County to the southwest corner of San Bernardino County, the Inland Empire used to be a sparsely populated, rural area of ranches, vineyards and farms, where whites were the clear and dominant majority.
All that has changed.
Driven from Los Angeles and San Diego by soaring housing prices, middle- and working-class black, Hispanic and Asian families have migrated to the Inland Empire in massive numbers, drawn by a surplus of comparatively affordable, big homes in sprawling, suburban-style developments. The rolling, high-desert terrain of the Inland Empire is now studded with more than 50 small to mid-sized cities containing a combined population of roughly 3 million. This continuing exodus inland from Southern California's expensive coastal cities has fueled large-scale residential, commercial and industrial development in the region. Horse pastures and orange groves have been paved over for strip malls and chain restaurants. Simultaneously, the Inland Empire has experienced rapid demographic shifts as more and more minorities move into a region that has long been a hotbed of white supremacist activity. Between 1990 and 2000, the Inland Empire's white population increased only 7%, while the number of blacks grew 61%, Asians 62% and Latinos 82%.
Whites are now a minority in the Inland Empire.
These seismic changes in the region's racial make-up have corresponded with a steady rise in hate crimes, including a particularly vicious spike in racially motivated violence and harassment in the past two years. During that period, as hate crimes dropped 10% statewide in California, the number of reported hate crimes in the Inland Empire shot up 20%. Last year, there were 148 hate crimes reported in the Inland Empire, most of them committed by racist Skinheads and other white supremacists.
This year, this disturbing trend has shown no signs of abating.
In January, in just one example, a gang of 10 neo-Nazi Skinheads attacked three Hispanic men outside a topless bar in Redlands, yelling racial slurs while they knocked the men to the ground then kicked them mercilessly. One of the victims suffered a broken arm. All three were hospitalized.
"The unfortunate reality is that the Inland Empire is California's own northern Idaho," said John Ruiz, assistant Riverside County district attorney, who has successfully prosecuted several high-profile hate crimes, including one in 2002 when he sent five members of the neo-Nazi Western Hammerskins to prison for stomping a black man with combat boots and cutting him with razor blades. With that case, Ruiz basically ran the Hammerskins out of town. The gang subsequently moved its base of operations to Mesa, Ariz.
"A lot of people are moving out here, and some of them don't like rubbing elbows with ethnic minorities," Ruiz said. "It's a small but very vocal segment of our society."
And, too often, a very violent one.