Emails Detail Miller's Ties to Group That Touted White Nationalist Writers
White House senior policy adviser Stephen Miller demonstrates a connection to an anti-immigrant think tank that promoted white nationalist writers, according to emails acquired by Hatewatch.
On Nov. 12, Hatewatch reported that Miller showed an affinity for white nationalist and other extremist thought in more than 900 previously private emails he sent to Breitbart News in the run-up to the 2016 election. At the time, Miller was an aide to then-U.S. Sen. Jeff Sessions of Alabama.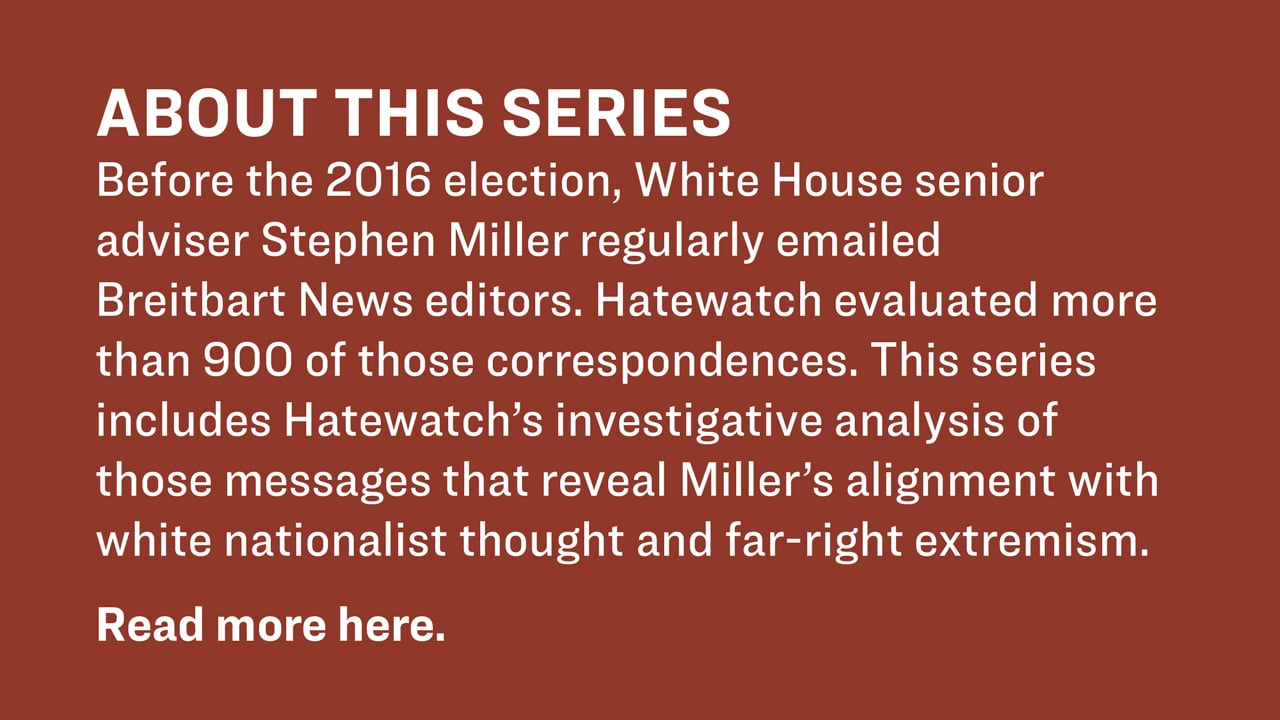 In those same correspondences, Miller shows ties to the think tank Center for Immigration Studies (CIS). CIS researchers say the White House has invited them into policymaking discussions. The White House and CIS did not respond to multiple requests for comment on this Hatewatch report.
But CIS Executive Director Mark Krikorian did reply in a National Review op-ed, criticizing the Southern Poverty Law Center's approach as being "McCarthyite."
The SPLC began listing CIS as an anti-immigrant hate group in 2016. Since then, others have raised questions about the way the group's analysts choose to portray immigration in a negative light. In an August article in The Washington Post, CIS tried to distance itself from a far-right attack in El Paso, Texas, responding to criticism that the organization and the young shooting suspect shared similar viewpoints on immigration.
Miller sent at least 46 emails relating to CIS material, employees or contributors to former Breitbart editor Katie McHugh over 10 months, the emails show. At one point, he sent a CIS report to Breitbart that he described as "embargoed." In another email, Miller forwarded McHugh the cell phone number of a CIS employee. Miller repeatedly offered CIS research material to McHugh for her reporting.
In 2017, McHugh was fired from Breitbart reportedly for posting anti-Muslim tweets amid backlash to that site's connections to extremism. She has since renounced far-right politics. She shared the entire volume of her correspondences with Miller to Hatewatch, which span from March 2015 to June 2016, out of what she said was opposition to the Trump administration's immigration policies.
"We used [CIS material] to spin a narrative where immigrants of color were not only dangerous, violent individuals but also posed an existential threat to America," McHugh told Hatewatch about how Breitbart handled research Miller sent to her. "We never fact-checked anything. We never called up other organizations to get any other perspective about those studies. … It was understood. You just write it up."
Breitbart spokesperson Elizabeth Moore told Hatewatch in part one of our series on Miller's emails that "it is not exactly a newsflash that political staffers pitch stories to journalists." Hatewatch followed up with a specific question about Miller's success in pushing CIS material into Breitbart stories. "I don't know what 'CIS' means," Moore responded in an email. Hatewatch explained the acronym in another email, but Moore did not reply back.
In a keynote speech at a May 2015 CIS event, Miller credited the group for illuminating "a debate that far too often operates, like illegal immigrants, in the shadows."
His recommendations of CIS material before the 2016 election often turned directly into xenophobic content for Breitbart, such as when he emailed a CIS report titled "Social Security Data Points to Growth in 2nd-Generation Muslim Population," on Jan. 5, 2016.
Miller sent that report to a group of Breitbart editors, including McHugh, with the subject line, "Huge Surge in US newborns named 'Mohammed.'" Then-Breitbart chief Steve Bannon replied to the thread by adding reporter Caroline May. The exchange resulted in a Jan. 6, 2016, story by May on Breitbart, "Report: Dramatic Increase in the Number of U.S. Babies Named Muhammad."
Another example of how Miller used CIS content to push negative stories about nonwhite immigration happened Aug. 12, 2015, when he sent McHugh an "embargoed" CIS report called "Immigrant Population Hits Record 42.1 Million in Second Quarter of 2015." The report purported to show that people coming from Mexico were driving an immigration surge.
A press representative for a nonprofit group typically notifies journalists about embargoed reports. In this instance, Miller relayed the material to McHugh in an email from his government address with the subject line, "Trump right again: Census data shows Mexican immigration surging - 740,000 in one year! [EMBARGOED]." Miller also put the word "embargoed" in boldface in the body of the email.
Miller, Aug. 12, 2015, 3:13 p.m. ET: "This is a Center for Immigration Studies report, embargoed until 1am Thursday night (i.e. tonight at 1am)."
McHugh, Aug. 12, 2015, 3:16 p.m. ET: "Writing this up for tonight… Will call in a few[.] "
Later that day, Miller sent McHugh an email with the subject line, "Camarota cell," referring to Steven A. Camarota, CIS director of research. Camarota confirmed to Hatewatch that the cell phone number was his.
The series of emails related to the CIS study culminated in an article by McHugh, "Surge of Mexican Immigration Pushes Foreign-Born Population to 42.1 Million as Economy Stagnates." Breitbart published the story the next day, Aug. 13, 2015, and linked to the CIS website.